International Information
General Information
Entries
On the 18th and 19th of February 2023 the 48th Van Oord WinterWedstrijden Regatta will take place on the river Schie between Rotterdam and Delft, The Netherlands. This is the first regatta of the national rowing season and we would be very happy to receive participating teams from all over the world. Entries for international crews will be open from the 9th of January until the 13th February 2023.
To participate, send an email to wedstrijdleiding.winterwedstrijden@proteus-eretes.nl with the following information:
The full name of your rowing club
Address
City
Country
Contact name
Contact mail address
Contact telephone number
Small description of blade, shirt and trousers
Accommodation
We do not have special deals with hostels or hotels, but if you would like to receive any recommendations regarding accommodation, please contact info.winterwedstrijden@proteus-eretes.nl.
Registration Fees
€120,- for an 8+.
€78,- for a 4x and 4+.
€62,- for a 2x and 2-.
€36,- for a 1x.
Boat Rental
If possible, we kindly ask you to bring your own boat and oars. Often boat transport can be combined with other participating crews. Crews who are not able to bring their own boat and oars can contact info.winterwedstrijden@proteus-eretes.nl for more information about the possibilities and rental fees. Note that there are a limited number of rental boats available.
Please note we do not arrange a cox or cox box. You have to sign a "declaration of own risk" before using the boat.
Registration boat trailers
If you bring your own boat, you need to register your boat trailer.
Please send an email to wedstrijdleiding.winterwedstrijden@proteus-eretes.nl with the following information:
Arrival time and date
Name of the Boat trailer
(if possible) name of driver and phone number
How many boats, including types per trailer
Payment instruction
Instructions will be sent to you by email after filing your entry. Your registration is only final after we receive payment of the registration (and rental) fees.
Information during the regatta
Information will be shared via the homepage of the website. We also provide information via a whatsapp service.
How it works:
Add +31 6 23386493 to your contacts
Send us a Whatsapp message saying if you want dutch or english information
You will get a message when there is an important update concerning the regatta, for example changes, weather codes and progress during and the days before the weekend.
Time Schedule
Saturday February 18th 2023
| Shift | Time | Fields |
| --- | --- | --- |
| Shift 1 | 10:00 - 12:00 | LM 2x, LW 1x |
| Shift 2 | 13:00 - 15:00 | M 2x, M 2-, W 1x |
| Shift 3 | 16:00 - 18:00 | M 8+, LM 8+, W 4+ |
Sunday February 19th 2023
| Shift | Time | Fields |
| --- | --- | --- |
| Shift 4 | 10:00 - 12:00 | W 2x, LM 1x |
| Shift 5 | 13:00 - 15:00 | LW 2x, W 2-, M 1x |
| Shift 6 | 16:00 - 18:00 | W 8+, M 4+ |
Coxswains and steering bows
Race instructions
The following presentation will give you information on the rules that apply during the Van Oord Winterwedstrijden regatta.
The instruction will emphasise some of the important aspects that you will encounter during the race.
The overtaking Instructions will emphasise several situations on how to pass each other obeying the rules.
Coxswain weighing
For the rules on the weight of the coxswains, we refer to the Dutch Rules of Racing, Article 7, sub3. (only in Dutch)
Coxswain weighing will take place at "Proteus-Eretes" (Rotterdamseweg 362a, Delft). Like the rowers, also the coxswains weighing will take place between 2 and 1 hours before the start of their own devision.
No weighing of coxswains for master, mixed, corporate and junior events.
Coxswains must be weighed wearing their racing uniform.
Coxswains must provide their own deadweight if needed.
Coxswain age
Attention: The Dutch Rules of Rowing state that the minimum age of the coxswain needs to be 12 years.
Race course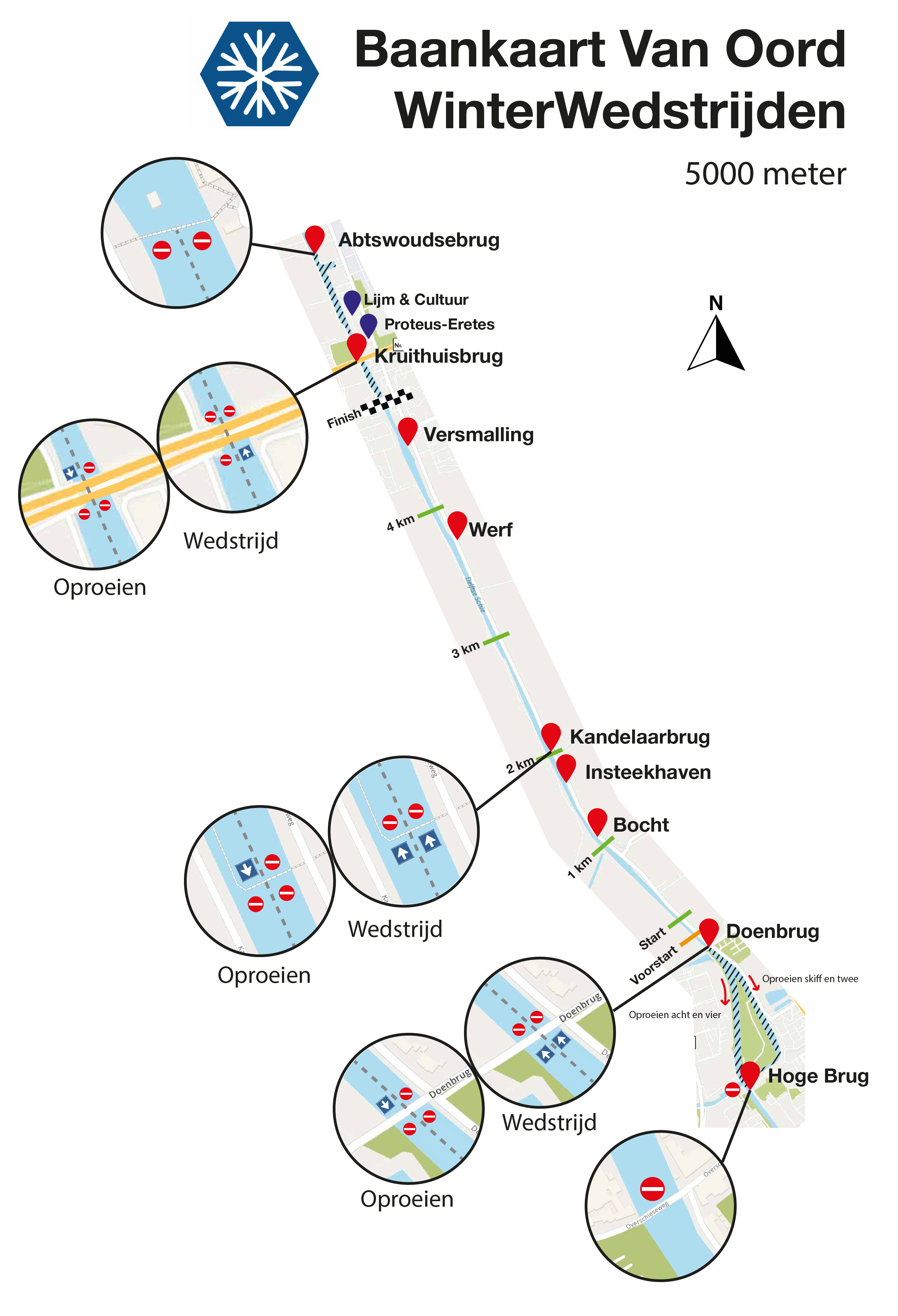 Weather Codes
The Van Oord WinterWedstrijden regatta uses weather codes. As from Wednesday before the race weekend, 20.00h, the up to date weather codes will be presented at the home page.
There are three weather codes: Green, Yellow and Red. These codes indicate the situation for the first following time slot.
The weather codes will be communicated on the homepage.
The decision if a time slot will be cancelled or continued will be made at least 1 hour and 30 minutes before the first start of each time slot. From that moment the colour green or red will be featured. This means the decision will be made at:
Time slot 1: Saturday, 08:30
Time slot 2: Saturday, 11:30
Time slot 3: Saturday, 14:15
Time slot 4: Sunday, 08:30
Time slot 5: Sunday, 11:30
Time slot 6: Sunday, 14:15
Explanation weather codes
Green: The weather is not indicating any reason to change anything in the schedule.
Yellow: Pay attention, the weather may result in postponing or cancelling the next time slot. Please keep an eye on the website.
Red: The weather is not allowing us to continue with the competition without compromising the safety of rowers and staff. The next time slot is cancelled until further orders. Please keep an eye on the website for further information.
Weercode
Groen
Geüpdate: 19 feb 2023, 07:00
Powered by